Home Page • About Me • Before & After Images • Services Offered • Repair Issues • Resources
Frequently Asked Questions • Silver Care • Silver Glossary • Shop Views • The Library
Engraving Samples • Testimonials • Work Order.doc / .pdf • Contact

• Before & After •
Buccellati Sterling Eagle Perched Atop a Quartz Base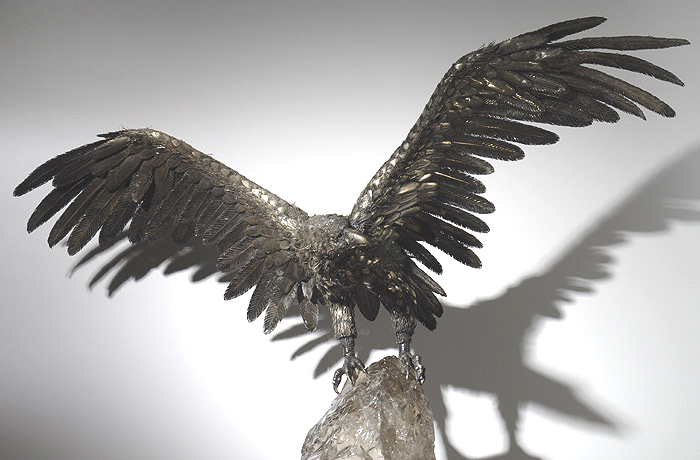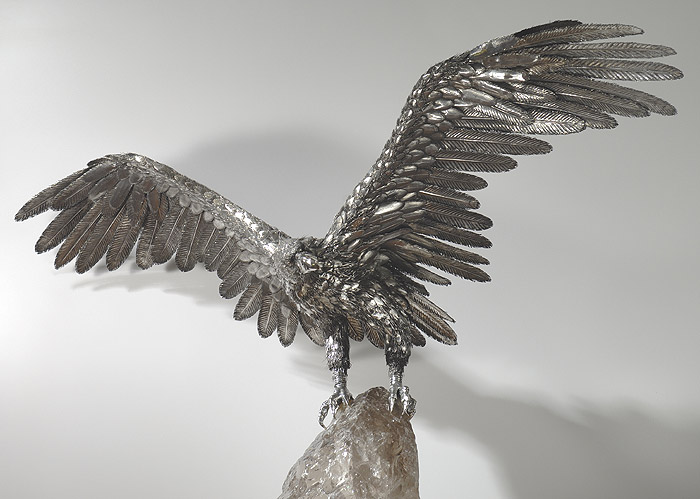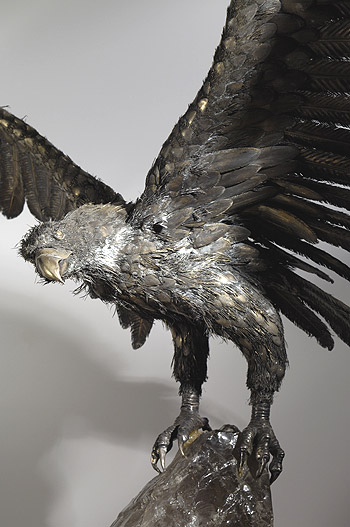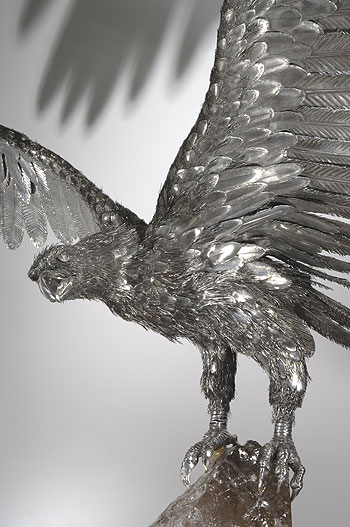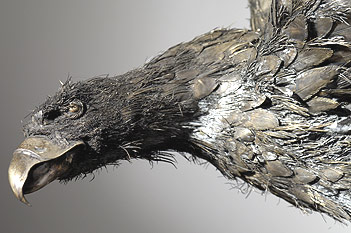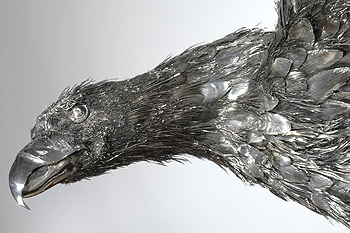 The above images are of a beautiful Buccellati sterling eagle with a 4½-foot wing span. Buccellati's signature silver animals are a result of a new method of creation known as lavorazione a pelo or "hair-like workmanship." It is the result of welding many silver hairs or feathers, giving the exact appearance of the "natural" coat. After researching wing and feather anatomy, here's what I did to bring the eagle back to life:
1. Removed dried polish and corrosion.
2. Repaired three long feathers on the upper side of the left wing that had been previously repaired incorrectly. They had at some point become dislodged and reinstalled with epoxy; they had also been horribly distorted. I removed the epoxy from the feathers and from the point of attachment. I then soldered the feathers to the wing, along with a fourth dislodged feather which had been delivered with the eagle (and from which I had also removed epoxy).
3. All remaining visible epoxy was removed from the eagle.
4. Bends and dents in feathers were removed.
5. The small bent "hairs" were combed out for a more natural appearance.
6. The entire eagle was cleaned, polished, and then treated with a tarnish protectant.
7. The quartz base was cleaned.
Photos: Bill Hicks
---
Home Page • About Me • Before & After Images • Services Offered • Repair Issues • Resources
Frequently Asked Questions • Silver Care • Silver Glossary • Shop Views • The Library
Engraving Samples • Testimonials • Work Order.doc / .pdf • Contact