Novices and professionals alike confuse these types of marks. I most commonly hear the word "hallmark" when describing a housemark or maker's mark. If you have any questions after reading their definitions, please contact me.
Hallmark: A mark or series of marks stamped or laser-engraved by a country's assay office indicating the quality of the precious metal tested (e.g., Sterling, .925, .840, .800, or an image of a rampant lion – indicating sterling as used in Great Britain). The object may also contain the country, maker's mark, housemark, duty mark, import mark, etc.
• More information on hallmarks can be found here.
• Images of international hallmarks
• A good video that further explains a hallmark.
Below are actual hallmarks on an English object with the following stamps:
• Assay Office: crowned leopard's head (London)
• Alloy: rampant lion (shown here upside down) indicates sterling
• Date Letter: n (1748-1749)
• Maker: unidentified because it was carelessly over-stamped with the date letter
• Additonal British examples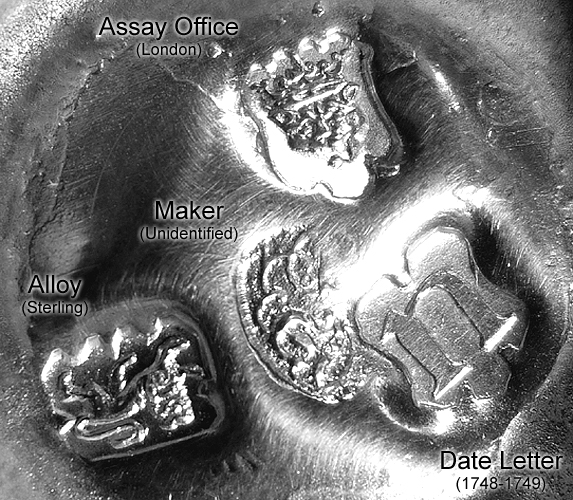 Housemark: A mark stamped or laser-engraved by the company (e.g., Gorham, Reed & Barton, Tiffany, Kalo) that created the object for its own line or for a retailer (e.g., Shreve, Crump & Low, J.E. Caldwell Co.). In addition, there may also be a maker's mark, indicating the company's craftsman who created or oversaw the creation of the object. The below example identifies the object's maker as Gorham Manufacturing Company from Providence, RI; the metal quality (sterling); and the object's design number (A2150).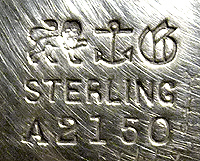 Maker's Mark: The name or artistic mark stamped, engraved, or laser-engraved on an object created by an individual silversmith or jeweler. The below mark is mine. This particular piece was raised from a flat sheet which is why there is a center mark between my name and sterling.