Silver has escalated to its highest price since 1980, and it's time to make crucial decisions. To scrap or not to scrap? First and foremost, are you absolutely certain that the object you want melted isn't a rare or important piece crafted by an important silversmith? If it was made by a silver company, are you positive it isn't one of only a few produced? These are questions that you should take into careful consideration before scrapping. Keep in mind that during the last rush to the refiners in 1980, tons of important silver that will never be reproduced was recklessly disposed of. Some of it was saved from the flames by the hands of knowledgeable silver dealers, but the majority will never be seen again in this throw-away society.
I've spoken to many individuals who didn't do their research before scrapping, finding out soon afterwards that their silver was far more valuable than its silver content alone. Please give serious consideration to what you're looking at before shipping it to a refiner. Something else to keep in mind: many refiners will also charge a refining fee of $50 or more per lot!I
How about using your silver in unconventional ways, like throwing some donuts on a silver plate...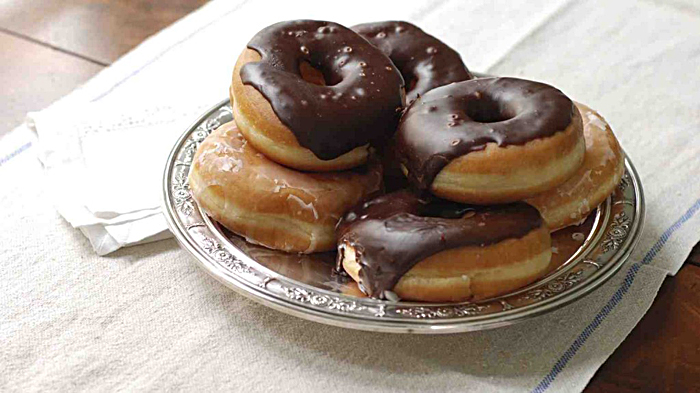 Nancy Stuckwish from Silver Magpies has lots of suggestions on her Web site.
And what about giving these objects as gifts, especially if they are handwrought or contain beautifully hand-engraved monograms or chasing. These pieces are works of art and should never be melted. Why not wait for birthdays, anniversaries, or holidays, and surprise your friends or loved ones? If your silver is damaged or heavily tarnished, it might be easily restored by a specialist in silver restoration, making it useful again. If you still intend on selling your silver, consider a reputable antique dealer who has silver appraisal experience, or contact an auction house. And I'm sure you alraedy know about ebay and the enormous amount silver offered there.
As you can see, there are numerous options of dealing with silver you either no longer want or to repurpose. And silver is actually very easy to care for – visit The Care of Silver for instructions. (It may be as simple as using hand sanitizer!) And keep in mind that tarnished silver can still be decorative.
See this article about silver's health benefits!
• A.B. Levy
211 Worth Ave.
Palm Beach, FL 33480
561/835-9139

• Greenwald Antiques
28480 Chagrin Blvd.
Woodmere Village, OH 44122
216/839-6100


• As You Like It Silver Shop
3033 Magazine St.
New Orleans, LA 70115
800/828-2311


• Heritage Auction Galleries
1518 Slocum St.
Dallas, TX 75207
800/872-6467


• Beverly Bremer Silver Shop
3164 Peachtree Rd. N.E.
Atlanta, GA 30305
800/270-4009

• M. Ford Creech Antiques
581 South Perkins Rd.
Memphis, TN 38117
901/761-1163


• Carman's Collectables
PO Box 258
Levittown, PA 19059
215/946-9315


• Laurie Ackerman
PO Box 373
Swansea, MA 02777
508/675-4889, Cell: 508/277-9942


• Christie's
20 Rockefeller Plaza
New York, NY 10020
212/636-2000


• Reliable Gold
81 Wayland Ave.
Providence, RI 02906
401/861-1414


• Drucker Antiques, Inc.
487 East Main Street, Ste. 197
Mount Kisco, NY 10549
914/923-4560

• Sotheby's
1334 York Ave.
New York, NY 10021
800/813-5968