Who is Qualified to Work on My Silver?
This is probably a question that's gone through your mind when searching the Web for a professional silversmith. There are huge companies that specialize in silverplating. Those that have a policy of giving every piece that passes through their production line a "brand new" appearance. Some companies have splashy Web sites, only to mask their lack of professionalism and craftsmanship. Why would you send your valuable silver to these "experts?"
Why Use Herman Silver Restoration?
I have been working with silver for 40 years and have one of the best equipped restoration workshops in the world. When you consult with me – the sole-proprietor – you'll always receive honest advice. You'll never hear me blame another worker or that I fired a craftsman because he ruined your piece. I would never return a repaired piece that I wouldn't accept myself. Many of my customers are as obsessive as I am. Feel at ease that your object is being handled by an experienced silversmith, insuring that you receive the absolute highest quality craftsmanship that includes spotless dent and monogram removal. And you'll never receive your piece back that has an inappropriate finish. I'm finicky, obsessive, and have the sensitivity you're looking for. I hope my Web site (which I created and update) has made that evident. All work is guaranteed.
Contact me with any questions you can't find answers to on this site. If you have a piece in need of repair, or interested on bidding on a damaged object, feel free to send an image or link to that piece for an estimate (please note if the piece solid silver or silverplate).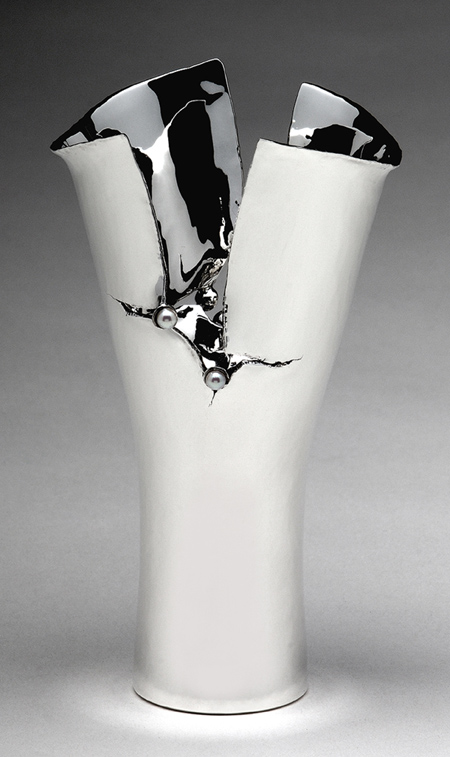 Created in 1995, this 5"tall x 3"diameter sterling vase with 5 cultured pearls was raised from a rectangular sheet of sterling, allowing stress cracks to develop as a design element. The top and side edges are hammer "checked" for thickening and sparkle. Purchased by Yale University Art Gallery for their permanent collection. Photo: Bill Hicks