Home Page • About Me • Before & After Images • Services Offered • Repair Issues • Resources
Frequently Asked Questions • Silver Care • Silver Glossary • Shop Views • The Library
Engraving Samples • Testimonials • Work Order.doc / .pdf • Contact

• Before & After •
18th Century English Sterling Candlesticks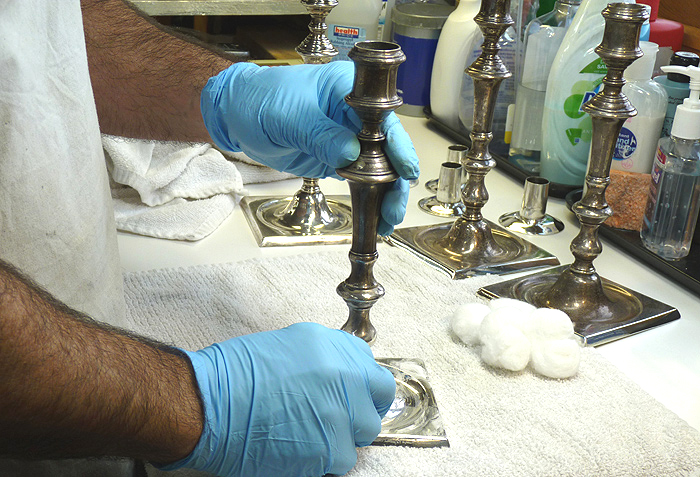 This is an unmatched set of candlesticks. They came to me for straightening, leveling of the bases, and welding of a crack in one of the bases and a bobeche. After their restoration, the sticks were gently polished while maintaining their patina and light etching caused by many years of tarnish build-up.
Showing the comparison between a polished and unpolished candlestick.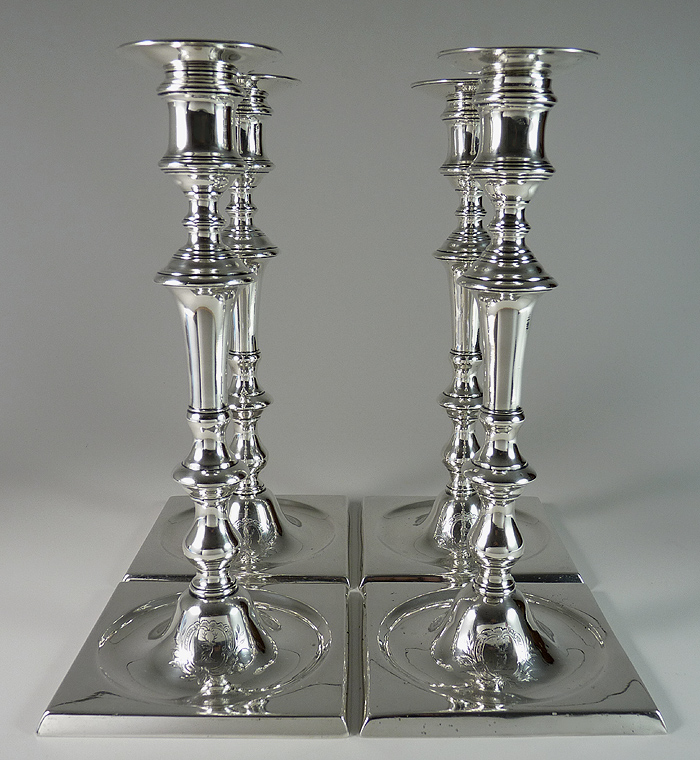 The completed set. Though all four candlesticks are almost identical (notice where the shafts meet the bases, and the undersides are a bit different in construction), the two sets were made by different silversmiths. All stick shafts were cast in two pieces, soldered together, then soldered to the cast bases. The set on the left (front and back) was made by John Cafe of London in 1756. The set on the right was made by David Bell, also of London, in 1758. The Bell candlesticks' bobeches have no assay stamp, indicating the originals were lost and recreated in America or some other country not requiring hallmarking. All four sticks are hand-engraved under their bases with numbers from 1 to 4. All crests were cut by the same engraver.
---
Home Page • About Me • Before & After Images • Services Offered • Repair Issues • Resources
Frequently Asked Questions • Silver Care • Silver Glossary • Shop Views • The Library
Engraving Samples • Testimonials • Work Order.doc / .pdf • Contact