For many years I have viewed numerous online videos demonstrating harmful silver polishing techniques. Do not trust everything you see online regarding silver care, like these instructions.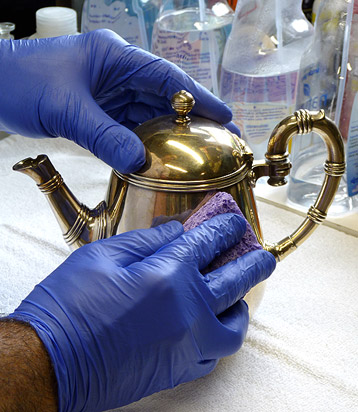 Some of these videos, produced by well-intentioned but ill-informed individuals, show the use of horribly abrasive products such as Nevr-Dull, toothpaste, or baking soda. Some advocate the use of the toxic product Tarn-X which, although not abrasive, will remove factory-applied patinas, and will actually promote the formation of tarnish. The aluminum foil technique (in which the user is encouraged to soak silver in water containing baking soda and a piece of aluminum foil) will also allow tarnish to form more quickly. Also, many videos say that it's okay to put silver in your dishwasher – that's not true!
The most destructive polishing video on the Web can be found here. Why you ask? Because every bit of instruction presented is irresponsible and will ruin your silver using some of the most abrasive products and techniques. Tarn-X not only removes silver, patina, and is toxic, but will also allow tarnish to form more quickly. Silver polish applied with a brush? Really? Do you want to put deep scratches in your silver, remove all natural and factory-applied patina, and remove your silver plating in 30 seconds?
I have spent 28 years testing products and researching the subject of silver care. With proper care, your silver will remain beautiful for generations! My widely respected Silver Care Guide gives you the most common sense and gentle approach to cleaning and storing your silver. Really!